INTEGRITY, COMMITMENT & PASSION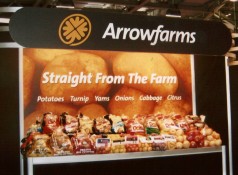 Welcome to Arrowfarms, an organization comprised of three dynamic companies, Arrowfarms, Gold Bell Inc., and DiSilva Fruit. At Arrowfarms, delivering quality products and fulfilling commitments to customers is our core focus. We serve customers throughout the Northeast as well as West to Chicago and South to Atlanta. We constantly strive to maintain the highest standards of quality, integrity, and service. Our HACCP certification and USDA Organic certification, in addition to scoring a 97% ASI rating, demonstrates our dedication to providing exceptional service and products.
Arrowfarms has four state of the art production facilities located within the heart of New England's major food hub. These facilities are used for packaging all varieties of potatoes, onions, citrus, and various other commodities. When a customer or vendor develops a relationship with an Arrowfarms company, they receive the best of what the produce industry has to offer.